Rutgers Research Seminar 12/1/20 3:00 pm-4:00 pm
Submit Questions and Register Here!
Join us for a conversation about the future of American innovation, the role of the university, and how to build a more diverse and inclusive innovation ecosystem by the director of the United States Patent and Trademark Office, Andrei Iancu, followed by a panel discussion on inclusive innovation and a Q&A Session.
Program of Events
Hosted & moderated by Tatiana Litvin-Vechnyak, Associate Vice President of Innovation Ventures, Office for Research, Rutgers University
3:00 – 3:05 p.m. – Opening Remarks by S. David Kimball, Senior Vice President for Research, Rutgers University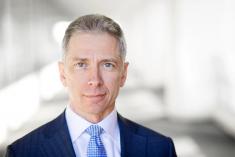 3:05 – 3:20 p.m. – Featured Presentation by Andrei Iancu, Under Secretary of Commerce for Intellectual Property & Director of United States Patent and Trademark Office
3:20 – 3:40 p.m. – Inclusive Innovation Panel Discussion
Renata Pasqualini, Chief, Division of Cancer Biology, Department of Radiation Oncology, Rutgers Cancer Institute of New Jersey
Karin Calvinho, Co-Founder, RenewCO2
Biju Parekkadan, Associate Professor, Biomedical Engineering and Medicine, Rutgers School of Engineering
Elad Mashiach, MD Candidate, Class of 2023, Rutgers Robert Wood Johnson Medical School; President of the Rutgers Biomedical Entrepreneurship Network
3:40 – 3:55 p.m. – Q&A Session with Andrei Iancu
Submit questions in advance.
3:55 – 4:00 p.m. – Wrap-up with Elizabeth Dougherty, Eastern Regional Outreach Director, USPTO